May/June 2003
Warding off a heart attack
CHIP program gets people moving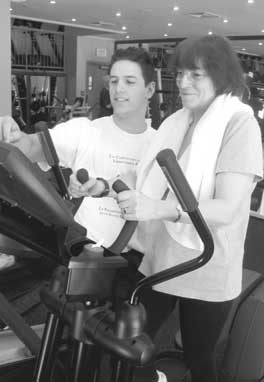 Fitness trainer Marc Ciminelli makes sure Marie-Jeanne Arsenault is exercising within her limits during her workout at The Montreal Cardiovascular Health Improvement Program (CHIP) based at the Atwater Club.
It was midnight on December 12 when
Sepehr Khalili
woke up with severe chest pain. He thought it was just another bout of heartburn or indigestion.So he lay there, quiet, waiting for the pain to abate, but it only got worse. It started to spread to his back and armpits. His arms felt as if they were being crushed. Around 2 a.m., the pain was so severe he started to moan, so Khalili got up and went downstairs so he wouldn't wake up the rest of his family.It never crossed his mind he was having a heart attack because three months earlier he'd had a complete physical and received a clean bill of health.The 58-year old waited patiently until his wife got up at 6 a.m. and only then decided he should head to the hospital. Decision made, he still took his time, showered, dressed, arranged to have his mother-in-law look after his five-year old son. He finally headed out around 8 a.m. "I let my wife drive, I wasn't that crazy," Khalili says.At the hospital, the triage nurse asked how severe the pain was. Khalili responded: "If it gets any worse I'm going to scream." Instantly, a team of health care professionals swarmed Khalili working feverishly to stop his heart attack.Today, Khalili works out three times a week using a treadmill and even an ellipitical trainer. "I feel a lot better, I can do a lot more and I have a better outlook on life. I'm no longer afraid of dropping dead at any moment," he says.Khalili is enrolled in
The Montreal Cardiovascular Health Improvement Program (CHIP)
, a non-profit cardiac and diabetes prevention and rehabilitation program affiliated, founded and staffed by a team of McGIll University Health Centre physicians and health care professionals.CHIP is the only such program in the downtown core and only one of two cardiac prevention programs on the island of Montreal.
Dr. Steven Grover
, MUHC director of Clinical Epidemiology. says heart disease is one of the number one killers in Canada, yet there is a shocking lack of prevention programs. "Doctors find it frustrating that the only thing they can do for a patient at risk of a heart attack is to tell them to walk 30 minutes a day or to join a gym. These patients need a more structured and supervised program which will not only allow them to exercise safely, but would also get them to incorporate exercise into their daily life."Grover says many commercial fitness studios are not prepared to deal with patients with cardiovascular disease because you have to supervise these people to make sure they are exercising safely and that there are no major problems with their medical conditions and associated treatments. For example, patients with high blood pressure might need to adjust their medication once they begin exercising.The CHIP team comprises a team of cardiologists, internists, family practitioners, exercise physiologists, nurses, dietitians and psychologists."We hope when people graduate from our program they will have reduced their risk of having another heart attack or will have incorporated the necessary lifestyle changes to prevent heart disease. They will also feel comfortable and confident about exercising on their own either at a commercial club or at home," says
Marla Gold
, program director of CHIP.Upon enrollment new members see a physician specializing in cardiovascular prevention and rehabilitation. Members complete a stress test to determine their fitness level and tolerance to exercise and to determine if there are any problems with their heart during exercise. They then have a one-on-one private training session with an exercise specialist who tailor makes a fitness program based on individual ability. After this members work out three times per week for a minimum of 12 weeks.If working out in a small group is too intimidating or inconvenient patients can opt for the CHIP program that trains them to exercise in their own home.Overweight members are also encouraged to see the in-house nutritionists to learn how to modify and improve their diets. They can also make an appointment with the in-house psychologist, who will help them cope with stress, anxiety and depression, which are often offshoots of cardiovascular disease.Grover admits the hardest part about exercise is sticking with it. "I don't have the magic bullet. It takes about three to six months to get over the hump and sore muscles and to make exercise part of your routine," he says. His chief piece of advice is to do an activity you enjoy.But to borrow from Nike 'just do it.'"Exercise and a weight lose of 5 to 15 pounds can have a dramatic effect on a person's health. Many people could throw out or reduce the number of pills they are popping each day if they would simply lose a little weight and start moving a little more," says Grover.But he says the sad reality is the pills are free, but the exercise programs and weight lose costs money and takes time and effort something too few Canadians are unwilling to invest in.